Slovenia's police stage protest for implementation of pay rise
Comments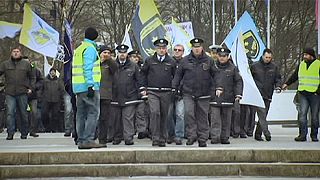 Around 3,000 police officers gathered in front of the government building in the Slovenian capital to protest at the government's failure to grant them long-standing pay awards.
These include an up to 35 percent pay rise.
A strike last month was low-key, and was slammed by the prime minister as "irresponsible" during a refugee emergency.
Analysts say that the support the police are getting from firefighters, teachers, and other public sector workers may be a two-edged sword, as they would be unlikely to settle for less and be emboldened to take action, too. It hardens the position of the cash-strapped coalition government even more.