Jubilation and anger as Mauricio Macri becomes Argentina's new president
Comments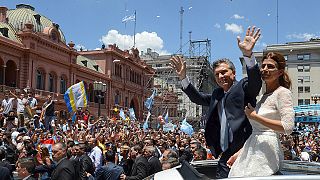 Argentina's new president Mauricio Macri has taken up the reigns, heading up a country which is deeply divided.
His swearing-in has brought both his supporters and those of former leader Cristina Fernandez de Kirchner out onto the streets of Buenos Aires.
She snubbed all of the inauguration events, following weeks of bickering.
Minutes after centre-right Macri made a speech calling for national unity, groups representing both sides jeered each other in front of the Government House.
Macri's supporters are pleased to see a new face at the top.
"This is why there is crime, because the government was an accomplice, an accomplice of the drug traffickers. With Macri, this will come to an end," said supporter Agustin Toledo.
But for members of the Mothers of Plaza de Mayo – whose children disappeared during the country's dictatorship that began in the mid 1970s – Macri's appointment is a mistake.
"Once again, the enemy will be inside Government House. For 12 years, he was not there," said Hebe de Bonafini, from the group, who joined a march in Buenos Aires.
"He's a man who believes the country is a company, a man whose speech is shameful and who uses the Supreme Court to give him his presidential attributes."
Macri is Argentina's first non-Peronist president in more than a decade. He has promised to end policies of leftist populism and revive the country's ailing economy.