Paris: Divisions remain as delegates try to reach a climate deal before Friday
Comments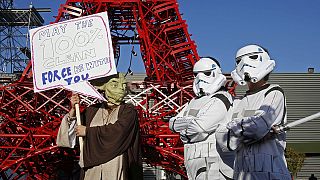 Negotiators at the Climate conference in Paris are narrowing in on a climate deal pact but there are still major divisions to be overcome before Friday's deadline.
A French initiated slimmed down version was presented to delegates on Wednesday which although more manageable still left contentious issues unresolved according to experts.
Jennifer Morgan, Global Director of the Climate Program at the World Resources Institute said after studying the new 29 page draft:
"There isn't much missing actually right now. The challenge of the negotiators is to narrow it down and to keep the key ambitious parts in. So will there be this long-term goal? Will there be a progression where countries have to increase their ambition every time? Those things are all still in brackets."
Issues which still need firming up include what temperature should global warming be held to ( a 2 degree Celsius rise over pre-industrial levels, or the 1.5 Celsius that more than 100 developing nations say is the only safe level to avert more storms, downpours and rising seas) and the extent of financial help developing countries will receive from richer governments to help them move to a low-carbon energy system.
There's a place for the #fossil#energy policy also in the future – at the museum… #COP21Parispic.twitter.com/kUGATszvLg

— Seppo (@sepponet) December 9, 2015
Pierre Cannet, Head of the climate programme at
WWF
-France said key details were still missing:
"The text foresees the yearly payment reaching 100 billion dollars in 2020 to be further increased, but unfortunately the countries have not really explained how they intended to do this."
In fact wealthier countries have balked at language that leaves them legally bound to do so and are pressing for an alternative plan that will see financial resources drawn from a wider community of donor nations such as China and others that can afford it.
Reporting from Le Bourget in Paris, euronews correspondent Grégoire Lory said:
"The latest draft presented to the negotiating table still didn't produce unanimity. Politicians and NGOs did have some interesting ideas but these were insufficient to reach an agreement. With France having revised its approach, we now look to see what will be produced in the coming hours."