A major step forward in the neo-Nazi murder case that has shaken Germany
Comments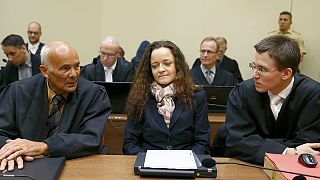 Details are finally being made public about a neo-Nazi murder case that has shaken Germany to its core.
After two-and-a-half years of silence, lawyers for the sole surviving suspect
Beate Zschaepe will read a 54-page statement in court.
The 40-year-old is accused of involvement in the murders of eight Turks, one Greek and a German police officer between 2000 and 2007.
NSU-Prozess: Jetzt bricht Beate Zschäpe ihr Schweigen https://t.co/vDglTnmj43pic.twitter.com/qxERscgJvO

—

DIE

WELT

(@welt) December 9, 2015
The 40-year-old is also charged with involvement in two bombings in Cologne as well as 15 bank robberies.
Das ist Mathias Grasel, der neue, vierte Pflichtverteidiger von Beate #Zschäpe im #NSU-Prozess http://t.co/C4uxxlxdk4pic.twitter.com/Fvbdqx4kav

— BR24 (@BR24) July 6, 2015
One of Beate Zschaepe's lawyers, Mathias Grasel, has told reporters he will read a statement from his client out in court.
"The aim of the statement is to introduce some circumstances to the trial that are important for the court in evaluating the deed and question of guilt, and by that, I mean what Ms Zschaepe knew, what she was involved in and what she was not involved in."
The lawyer for the victims, Mehmet Daimaguler says his hopes are high but expectations are low: "I would hope she will answer key questions like how big was the network, who else was involved, what role did the domestic intelligence services play? Mainly, my clients want to know "Why did my father, brother or son have to die?"
Beate Zschäpe, Uwe Böhnhardt en Uwe Mundlos pic.twitter.com/FRpBv277mg

— Mike (@MikeAviation) May 15, 2013
The two other defendants, Uwe Boehnhardt and Uwe Mundlos, both committed suicide in 2011 when the National Socialist Underground (NSU) cell was uncovered and raided by police.
Beate Zschaepe faces life imprisonment if found guilty. A verdict in the trial is expected early next year.
The response in Germany
A 19-month parliamentary inquiry
Security forces 'neglected' the threat
'Bungled investigations' and 'prejudice'
NSU inquiry report released, authorities blamed for incompetence: The final report of a German parliamentary i… http://t.co/x0xnxpV2tM

— DW | Germany (@dw_germany) August 22, 2013
The NSU had gone undetected for more than a decade.
It's discovery forced Germany to acknowledge that it has a more militant and dangerous neo-Nazi fringe than previously thought.
After a 19-month inquiry, a parliamentary committee concluded that German security forces neglected the threat from the far-right.
It also said a combination of bungled investigations and prejudice enabled the NSU to go undetected for more than a decade.
International reaction
At the meeting with Germany FM, bilateral relations and the report of the NSU Inquiry Commission of the Bundestag were discussed #G20

— Turkish

MFA

(@MFATurkey) September 5, 2013
#Westerwelle welcomes report by parl. inquiry on #NSU:Important for how the world views #Germany;contribution to regain trust GermanEmbassy</a></p>&mdash; GermanForeignOffice (GermanyDiplo) August 22, 2013