Beijing 'airpocalypse' red alert now in force
Comments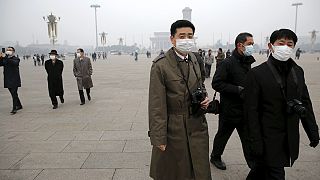 Tough restrictions come into force today in Beijing which has issued its first ever red alert for pollution.
That's the most serious warning signaling three consecutive days of severe smog.
The red alert brings factory closures, road restrictions, vehicle bans and a Beijing city government recommendation for schools to cancel classes.
"For the first time ever, they've closed down, all or most all of the schools in the city here…," said English teacher Jonathan Fredrickson. "And what I've been told is that some students can come if they want to, or they can stay home if they want to. It's between them and their parents. But what I've seen inside is that there are no students in there and only a handful of teachers."
"I have been in Beijing for 20 years now, and before, it did not use to be like this," explained He Xiubao. "Before, there were only a few cars on the road but now, look, there are more and more."
The move comes as climate change is being discussed at a summit in Paris.
The World Health Organization's China representative said the red alert means that "Beijing authorities are talking air quality, and related health issues, very seriously."
As Paris climate talks begin, reporters in Beijing are having to dress as Bane https://t.co/4s4slMMnlIpic.twitter.com/QkJQ4yDX91

— The Independent (@Independent) November 30, 2015