Where does ISIL get its weapons?
Comments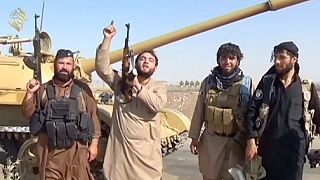 Amnesty International has published a scathing analysis of the weapons in the hands of the radical Islamic State movement (ISIL).
Reckless arms trading fuels atrocities on a massive scale.
According to the human rights defender, the arsenal used to commit atrocities in Iraq and Syria comes from more than two dozen countries, including the United States and European Union countries.
The report 'Taking Stock: the Arming of Islamic State' describes how much of this was looted from Iraq, where the army's stockpile swelled in the late 1970s and in the 1980s, especially during the Iran-Iraq war.
At least 34 different countries supplied Iraq with weapons; 28 of those states supplied Iran at the same time.
Amnesty also highlights that during and after the 2003 US-led invasion, Iraq was again flooded with weapon imports, many of them never adequately secured, and therefore unaccounted for.
The report urges that steps be taken now to curb future arms proliferation in unstable countries and regions.
With poor regulation and lack of oversight, Amnesty says, between 2011 and 2013, the US sold the Iraqi government tanks, aircraft, missiles, anti-aircraft batteries, small arms and ammunition, to re-equip the Iraqi military.
Endemic corruption and weak control of stockpiling and tracking weapons created the risk they would be diverted.
The report also documents ISIL and other groups getting hold of arms from Russia and other former Soviet states, and China.
Amnesty's analysts estimate that the jihadists have enough for 40,000 men, many of the weapons dating from the 1990s, some from the 1970s, reflecting decades of irresponsible arms transfers.
The human rights organisation drives home that illicitly acquired fire-power enabled ISIL to carry out horrific acts, with devastating consequences for civilians.
It is calling on all countries to embargo Syrian government forces, as well as opposition groups implicated in committing war crimes, crimes against humanity and other serious human rights abuses.
It also recommends that any state considering potential transfers to armed forces in Iraq first carry out strict risk assessments.
Patrick Wilcken, Researcher on Arms Control, Security Trade and Human Rights at Amnesty International, stated in the report: "The vast and varied weaponry being used by the armed group calling itself Islamic State is a textbook case of how reckless arms trading fuels atrocities on a massive scale."