Violent protests mark anniversary of teenager's death in Athens
Comments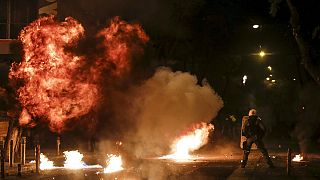 Black clad protesters and police fought pitched battles in Athens on Sunday evening , the seventh anniversary of the killing of a teenager by police officers. There were injuries reported on both sides and several arrests were made.
Since December the sixth 2008 a rally has been held to mark the fatal shooting of 15-year-old Alexandros Grigoropoulos.
The gatherings attract anti-establishment and now anti-austerity protesters.
The teenager was killed in a confrontation with police – his death at the time triggered anti police protests across the country.
Reporting for euronews, Apostolos Staikos said that the murder of a teenager by a policeman seven years ago, still triggers heavy fighting in the center of the capital. But the family of Alexandros Grigoropoulos have asked that their child's death should not fuel violence and division.