Draft deal reached at Paris climate conference
Comments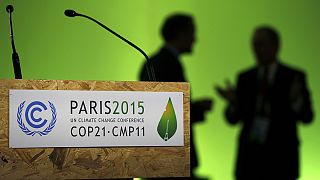 French Foreign minister Laurent Fabius is handed a draft climate agreement which politicians at the Paris COP21 conference will now get to work on to produce a final pact on slowing down global warming.
The 43 page text marks a major advance over the last failed summit in Copenhagen six years ago but there are still hundreds of disputed issues that still need to be resolved.
Paris Draft Agreement is now available online! https://t.co/bgBLCrWyeL#COP21pic.twitter.com/ugawjWlJon

— COP21en (@COP21en) December 5, 2015
"I believe this draft represents progress. But I think everyone will acknowledge that we need to go deeper and we need to firm things up before Friday… we're not just talking about the environment, or the climate, we're talking about life," said Laurent Fabius who is President of the COP21 climate conference.
On Saturday US actor and former governor of California, Arnold Schwarzenegger was a guest speaker at the French National Assembly where he called for a greener future.
"This is the real world, this isn't the movie world which is the other world that I come from, there are no visual effects, no special effects, there's no script writing where we can change the ending, do a better ending or anything like that. This is the real world, it is time to embark into a smart path. It is time for a new revolution, a clean energy revolution."
During his time as a state governor, Arnold Schwarzenegger was responsible for signing California's landmark green house gas reduction bill. He's one of several Hollywood figures who've been drafted in to inject urgency into efforts to strike a deal deal to curb greenhouse gas emissions. Leonardo DiCaprio and Robert Redford have both given speeches on on the sidelines of the Paris Summit.