Spain: New political landscape as election campaign begins
Comments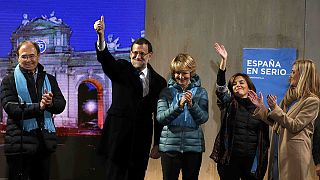 Campaigning is now officially underway ahead of Spain's general election on December 20.
The ballot is set to break the mold of the traditional two party system long dominated by Prime Minister Mariano Rajoy's conservative People's Party and the Socialists.
The People's Party will win according to a key new opinion poll, but without a majority.
Rajoy is struggling to shore up support after a four-year term marked by a crushing economic crisis, unpopular austerity measures and unemployment of more than 20 percent.
He is trying to capitalise however on signs of economic recovery.
Official campaigning kicks off for Spain's most open election since return to democracy https://t.co/8KLf1OCeZWpic.twitter.com/0nilLGGrat

— El País in English (@elpaisinenglish) December 4, 2015
Hard times and disgust with corruption in high places have fuelled the rise of new parties – the liberal, reformist Ciudadanos (Citizens) and the left-wing, anti-austerity Podemos (We can).
Support for Ciudadanos leapt in the voter survey, putting it just behind the Socialists and vying to be
Spain's second political force. It could play the role of kingmaker in the ballot.
If the figures add up, some believe that Socialist leader Pedro Sánchez could join forces with Ciudadanos to keep Rajoy out of power, even if the Popular Party does come out on top.
There is also Podemos, led by pony-tailed academic Pablo Iglesias, although the anti-austerity party's popularity has slipped from earlier highs.
The result is difficult to predict with some 40 percent of the electorate still said to be undecided.