Oil output to stay high as OPEC fails to agree ceiling
Comments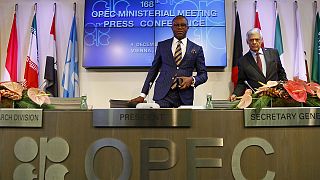 OPEC countries are to carry on producing current high levels of oil for the time being.
This comes despite complaints that the huge global surplus is damaging the industry.
Saudi Arabia had hinted at cuts in output – but only if OPEC and non-OPEC members followed suit.
An acrimonious meeting of member countries in Vienna broke up with no agreement on a new ceiling.
"We did not really mention the amount – it's because we are looking to negotiate with non-OPEC more and see how we can reach a collective effort that all of us should contribute to the market," OPEC's Secretary General Abdullah al-Badri told a news conference.
Near-record volumes have sent oil prices tumbling and OPEC seems to have done nothing to tackle overproduction.
Earlier reports that OPEC was to raise output sent Brent crude prices tumbling by two percent to 43 dollars a barrel.
Oil prices plunge after #OPEC is said to raise its output target from 30m bpd to 31.5m bpd. pic.twitter.com/QdkiFRBUZL

— Paul Wallace (@_PaulWallace) December 4, 2015
Uncertainty over Iran's future output played a part in no ceiling being agreed: Tehran says it will not consider any curbs until it restores production to pre-sanction levels – an extra one million barrels a day at least.
Poorer OPEC members had put pressure on Saudi Arabia and its allies to cut output.
But the Saudis and their Gulf allies have been sticking to their strategy of defending market share – hoping that lower prices may ultimately drive higher cost producers such as US shale firms out of the market.
So far it has not done that – it has put poorer OPEC members' finances under immense pressure.
Euronews correspondent Daleen Hassan reported from Vienna:
"Keeping OPEC's policy the same heralds the start of a new era of speculation as to what levels oil prices could drop, especially with the slowing down of the global economy. According to analysts, OPEC countries which depend on oil revenues might face a hard endurance test in the event of a further decline of the oil price."
OPEC could hold another meeting before June if oil prices continue to slide, Nigerian Minister of State for Petroleum Emmanuel Ibe Kachikwu said on Friday.
Five things to know about Friday's OPEC meeting in Vienna https://t.co/afOlj9zpIi

— FuelFix (@fuelfixblog) December 3, 2015