Chennai struggles with worst rain in a century as lakes close to bursting
Comments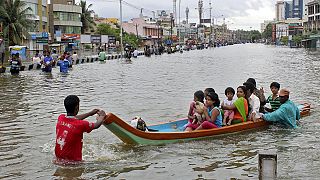 More rain is forecast to be on the way but India's fourth-largest city Chennai is already partially underwater.
The situation is currently a disaster in the city's poorer districts, but more rain could lead to several lakes and rivers which are dangerously high overflowing.
At least 280 people are confirmed dead and thousands of its six million population are fleeing the waters and are on the move. In many places homeless people have sought any high point they can, and will starve unless aid can get to them.
The government has drafted in thousands of soldiers to help the city recover from the
worst rains in a century with helicopters dropping food onto dry locations. Drinking water and fuel are already in short supply, and the authorities are being criticised for a slow response.