Spanish government poll says it will win country's election
Comments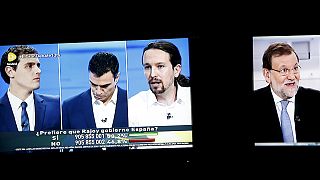 According to a Spanish government opinion poll, the country's governing People's Party is set to win the most seats in this month's general election with 28.6 percent of the vote, less than it will need for a majority.
The opposition Socialists would bag 20.8 percent.
Both the People's Party and Socialists have long dominated Spanish politics but face a threat from new parties like the centrist newcomer Citizens party that is looking to capitalise on Spaniards' disillusionment after a crushing economic crisis. Citizens has surged into third place since the last poll in October with 19 percent of the vote.
Also breaking the mold of the established political system is the left-wing anti-austerity Podemos.
Under the leadership of the pony-tailed professor Pablo Iglesias, the party's popularity has slipped from earlier highs, putting in fourth place with 9.1 percent of the vote.
The two key election issues are the future of the wealthy northeastern region of Catalonia and Spain's high unemployment rate of more than 20 percent.