ISIL tunnel network unearthed in Sinjar
Comments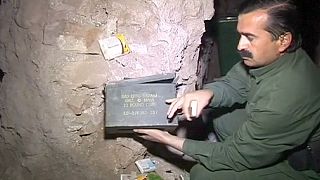 Kurdish peshmerga forces in the north of Iraq have discovered a secret underground tunnel network allegedly used by ISIL fighters to protect themselves from coalition airstrikes.
The tunnels were unearthed in the town of Sinjar – located along the important Route 47 motorway that runs from Mosul to the Syrian border.
Kurdish forces retook Sinjar town from ISIL last month (November 2015) in a two-day ground offensive backed by US-led air strikes.
ISIL fighters reportedly dug the tunnels, which have been wired with electricity and reinforced with sandbags, to prepare for the Kurdish onslaught.
They used to go into the tunnels to remain undetected by coalition drones flying overhead.
"Months ago, we received information from reliable sources indicating they [ISIL militants] brought 700 prisoners and people from the villages of Tal Afar and other villages for 30,000 Iraqi dinars [US 27 dollars] per day," explained the head of Sinjar Town Council, Wais Faiq. "They dug so many [tunnels] to the extent that they completely destroyed the infrastructure of Sinjar. There is a tunnel under every alley, street and public building that remains intact."
The excavated network of underground tunnels enabled ISIL to move around Sinjar undetected.
Before Sinjar was seized by ISIL fighters, about 200,000 people lived in and around the town. It was home to mainly Kurdish and Arab Muslims, as well as Christians and Yazidis.
Now the town is largely deserted.
Look at the tunnels #ISIS created in #Sinjar. It is a secret city underneath. #ISIS used #Yezidi manpower to this pic.twitter.com/Xr8DOqImQh

— Sarkawt Shams (@SarkawtShams) November 23, 2015