Greece: death at the border leads to violence
Comments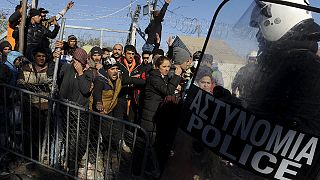 The deaths of migrants at sea are all too common.
But a man from Morocco has become the first person to die at the land border between Greece and the former Yugoslav Republic of Macedonia.
It is understood he died after being electrocuted while climbing on the roof of a train on the Greek side on Thursday.
Migrant electrocuted on Greek-Macedonia border after clashes pic.twitter.com/5FK7Vt92cb

— Dunya News (@DunyaNews) 3 Décembre 2015
Rising tensions lead to violence
Violence erupts between refugees and police at Greece and Macedonian border https://t.co/h0WZmvtRdfpic.twitter.com/KeIVhDh9vL

— 1001portails UK (@1001ptsUK) 2 Décembre 2015
Violence first broke out last Saturday after another man was badly burned when trying to cross on the roof of a train.
Skopje has sealed its border with a metal fence.
Sensing rising tension, the police put on their gas masks.
Tear gas was then used to disperse the angry crowds.
Hundreds of people are trapped on the Greek side of the border.
The majority are from Pakistan, Iran and Morocco.
The fear is they are in limbo. Pakistan has just refused to allow 30 migrants repatriated from Greece to get off the plane in Islamabad.
Balkan neighbour Hungary, meanwhile, has joined Slovakia in making an official complaint about EU migrant quotas.
Concern grows, Frontex steps in
Frontex to assist Greece with registration of migrants at its border with Former Yugoslav Republic of Macedonia https://t.co/43RJFoeOzj

— Frontex (@Frontex) 3 Décembre 2015
Frontex, the EU's external border agency, says it will assist Greece to register the migrants gathered at its border with FYROM.
#ReliefWeb Greece: UNHCR concerned by violence at Greek border, calls for improved security: Source… https://t.co/XHqeBR2j4g#Macedonia

— Balkannews (@balkannews) 3 Décembre 2015
Concerned by the reports of rising tension and violence, the UN has called for border to be managed more effectively.