Dmytro Firtash calls off visit to Ukraine employers' congress
Comments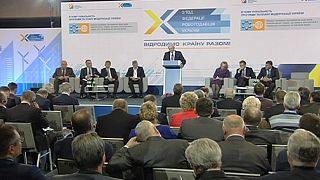 The 10th Congress of the Ukraine Federation of Employers took place in Kyiv in the absence of its boss Dmytro Firtash.
The Ukrainian billionaire was supposed to return from Vienna after 18 months of forced exile but he had to abandon his plans after authorities threatened to arrest him upon arrival.
Dmyro Oliynyk, the Federation's deputy chairman, said: "Firtash accused authorities of creating conditions that made him postpone his return to Ukraine.
"He had hoped to unveil his plan of modernising Ukraine at this congress. I spoke to him and he confirmed his intention to return to Ukraine in the near future to implement this plan."
The proposals are the brainchild of a group of Ukrainian and Western experts. It's a road map on economic growth. One of the authors is former Vice Chancellor of Austria Michael Spindelegger.
"The fight against daily corruption that is coming – not only top down, but also bottom up – that is the main issues that we need to change, otherwise I see that will be no investment, in this country and this would be a pity," Spindelegger said:
"This would bring back trust in the system, and it would be a strong sign, that something has changed."
Real changes are badly needed – that's the message from former officials who helped to insure the successful transition to market economy of their respective countries, like the former Poland prime minister Waldemar Pawlak.
"The programme that you have prepared will be very good base for dialogue with government, trade union and its very imported element of success," said Pawlak.
Dialogue is something of a rare commodity at present, as the Ukrainian government and Mr Firtash's teams are at loggerheads about the oligarch's real intent.
Mr Firtash blames the Ukrainian authorities for the country's situation while the government has denounced the proposed plan as a self-promotion tool.