Protesters urge UK lawmakers not to back a 'bomb Syria' vote
Comments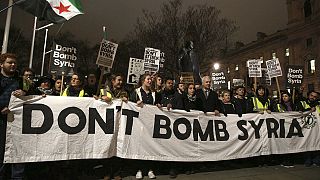 Thousands of anti-war protesters gathered outside parliament in London on the eve of a vote by lawmakers over extending airstrikes against ISIL targets into Syria.
The debate and vote takes place later today. The government believes bombing ISIL militants will reduce their capacity to launch terror attacks in the UK, but the protesters aren't convinced.
London student Courteny Hopkins said:
"We don't see them as people we just see them as a country that are like umbrellered under the name of ISIS, and they're not. They are innocent people, innocent children who are being killed."
"You can't bomb ideas, you can't and I think that sums up this entire debate. I don't think there is a debate. I think it's a no-brainer. We can't bomb Syria," said London charity worker Alexia Elena.
Thousands of anti-war protesters rally in Parliament Square. Demotix</a> <a href="https://twitter.com/STWuk">STWukhttps://t.co/bpLs09PaMk#london#war#protest#dontbombsyria

— EntOptika (@EntOptika) December 2, 2015
Keen to avoid a repeat of a damaging 2013 parliamentary defeat over plans to bomb the forces of Syrian President Bashar al-Assad, Prime Minister David Cameron made it clear he would not bring a vote to parliament if he did not think he could win it.
The prime minister is now almost assured of winning parliamentary backing after opposition leader Jeremy Corbyn said he would allow Labour Party members to vote according to their conscience.
About 50 Labour MPs are expected to back the action going against their leader Corbyn who is a veteran anti-war campaigner and a pacifist.
The UK's air force is already bombing ISIL in Iraq, but many
Britons are wary of becoming more involved after intervention in Iraq, Libya and Afghanistan failed to bring stability and, possibly led to the rise of Islamist militants..