French investigation into Paris Attacks leads to over 2,000 raids
Comments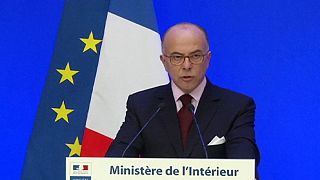 France's interior minister has told reporters that since last month's Paris attacks, over 2,000 homes have been raided, more than 200 people have been taken into custody and 334 weapons have been confiscated.
Bernard Cazeneuve said authorities closed two mosques last week, the first time France has taken such action against places of worship suspected of nurturing what he called "Islamist radicalisation."
He said police closed another mosque east of Paris on Wednesday and arrested the owner of a firearm in related raids. Some 22 people have been banned from leaving the country.
"During the search of the mosque leaders' homes, police found a 9 mm revolver belonging to a person who was immediately arrested," he explained, continuing, "a clandestine Koranic school, a hidden hard drive, various documents on jihad and a life insurance policy taken out in 2012."