Deadly AirAsia crash: crew response and faulty equipment key factors says inquiry
Comments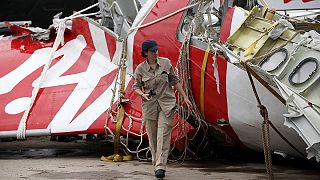 The crew response and faulty equipment are among a series of factors that caused last year's deadly AirAsia jet crash which killed all 162 people on board.
Investigators say a system controlling rudder movement had cracked soldering that malfunctioned repeatedly, including four times during the flight and 23 times the previous year. But the warning signs were not picked up.
Officials told reporters there were indications from the black box data recorder that crew had tried to shut off power to the computer that controls the rudder system by resetting a circuit breaker, something not usually done during flight.
Mardjono Siswosuwarno, lead investigator: "At high speed, at high altitude, we should not move the rudder beyond a certain limit, otherwise the aircraft will rapidly yaw or roll."
The Airbus A320 crashed into the Java Sea on December 28, less than halfway into a two-hour flight from Indonesia to Singapore.
The crash was part of a string of aviation disasters in south-east Asia's biggest economy, where rapid growth in air travel has overcrowded airports and stirred safety concerns.