World leaders in Paris begin bid for breakthrough in climate talks
Comments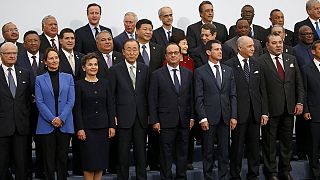 Representatives from more than 150 countries have started their ambitious attempt to bring down the earth's rising temperatures.
The climate change conference in Paris, COP 21, will seek to steer global economies towards greener fuels instead of fossil fuels.
Opening the summit, French President Francois Hollande said the fight against terrorism and global warming are closely linked. He also reiterated that a deal to try and keep any further rises in global temperatures to below 2 degrees Celsius needed to be "universal, differentiated and binding", with richer countries contributing more than poorer ones.
Success in agreeing what would be by far the strongest international pact yet to commit both rich and developing nations to the fight against global warming "is not yet achieved, but it is within reach," French Foreign Minister Laurent Fabius, chairman of the meeting, told delegates.
Sentiments shared by the United Nations Secretary General Ban Ki-Moon who spoke of the need to reach a landmark agreement.
Ban Ki-moon speaking at #COP21: "Our economies depend on improvement" https://t.co/EoHdrKcXxH

— euronews (@euronews) 30 Novembre 2015
Most scientists say failure to agree on strong measures in Paris would doom the world to ever-hotter average temperatures, bringing with them deadlier storms, more frequent droughts and rising sea levels as polar ice caps melt.
New approach
Signaling their determination to resolve the most intractable points, senior negotiators sat down on Sunday, a day earlier than originally planned, to begin thrashing out an agreement. They hope to avoid the last-minute scramble and all-nighters that marked past meetings.
The last attempt to get a global deal collapsed in chaos and acrimony in Copenhagen in 2009. It ended with Barack Obama forcing his way into a closed meeting of China and other countries on the gathering's last day and emerging with a modest concession to limit rising emissions until 2020 that they attempted to impose on the rest of the world.
Anxious to avoid a re-run of the Copenhagen disaster, major powers have tried this time to smooth some of the bumps in the way of an agreement before they arrive.