Voters in Burkina Faso choose first new president in decades
Comments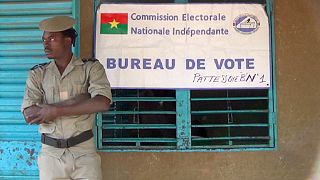 Voters have gone to the polls in Burkina Faso to choose the country's first new president in decades.
The landmark election comes a year after longtime leader Blaise Compaore was toppled in a popular uprising.
People formed long lines at polling stations to vote for the president to serve for a five year term and deputies for the National Assembly.
Analysts say only two of the 14 presidential candidates stand a real chance of winning.
One is Roch Marc Kabore, prime minister and president of the National Assembly under Compaore. The other is Zephirin Diabre, who was minister of finance in the 1990s before stepping down to start an opposition party.
The poll represents a turning point for a West African nation which, for most of its history since independence from France in 1960, has been ruled by leaders who came to power in coups.
Compaore seized power by that route and ruled for 27 years, winning four elections – all of which were criticised as unfair. He was ousted in October 2014, when demonstrators protested against his attempt to change the constitution to extend his tenure.