LA Lakers star Bryant to retire
Comments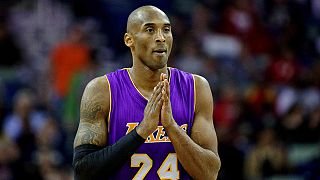 LA Lakers star Kobe Bryant has announced he is to retire after the current season.
The 37-year-old Guard is arguably one the best players of his generation, but is struggling through one of the worst seasons in his illustrious 20-year career.
Bryant – who has battled with injuries in the last few years – said he's ready to let basketball go.
A decision not totally unexpected
Bryant said: "A decision like this you can't allow, you can't make that decision based on, you know outside circumstances, it has to be an internal decision and finally I just had to accept the fact that I don't want to do this anymore, and I'm okay with that".
Bryant is a five-times NBA champion with the Lakers and has won two Olympic gold medals with team USA.
He has appeared in 17 All-Star games and named MVP for the 2007-08 regular season.
The Philadelphia-born player is the third highest points scorer in NBA history trailing Hall of Famers Kareem Abdul-Jabbar and Karl Malone.