India: Rally against intolerance ends in clashes outside parliament
Comments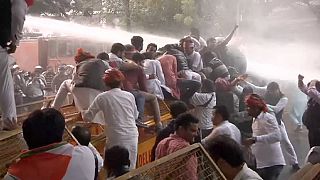 Protesters from India's opposition Congress Party clashed with police near parliament on Monday as a rally against perceived intolerance ended in ugly scenes.
There have been a number of protests including by filmmakers, historians and scientists claiming religious and other bigotry is growing under Narendra Modi and his ruling Hindu nationalist Bharatiya Janata Party (BJP).
A string of writers have returned government awards in protest against the rising number of attacks on religious minorities in India.
In recent months, a man was beaten to death amid rumours he had slaughtered a cow and another was murdered for espousing atheism, incidents that have stoked fears for India's tradition of tolerance.
Bollywood stars have also spoken out.
Bollywood star Aamir Khan under fire for complaining about India's religious intolerance https://t.co/SlO7JWGzBupic.twitter.com/MfOmPvBJ4T

— TIME.com (@TIME) 25 Novembre 2015