MSF hospital strike 'avoidable accident' - US army probe
Comments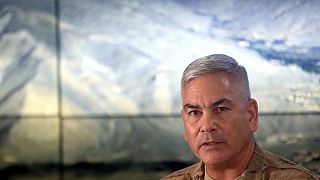 A top US military commander says last month's airstrike on a Medecins Sans Frontieres (MSF)hospital in the Afghan city of Kunduz was an "avoidable accident" caused primarily by human error.
The findings of an investigation into the bombardment which killed thirty people were revealed in a Pentagon news conference.
"This was a tragic mistake," said
General John Campbell. "US forces would never intentionally strike a hospital or other protected facilities. I can tell you that those individuals most closely associated with the incident have been suspended from their duties, pending consideration and disposition of administrative and disciplinary matters."
MSF said the army investigation showed "gross negligence" by US forces .. as the hospital's location had been clearly communicated to all warring parties.
"We are still left today with more questions than answers as to how this accumulation of errors really could have taken place and under which rules of engagement they were actually operating on that night," said Christopher Stokes, General Director of MSF. "So we are definitely continuing with our call for an independent investigation."
The US military said it would offer to help rebuild the hospital.
Kunduz has been the scene of fierce clashes between Taliban and Afghan forces with NATO back-up.