IAAF president Coe quits Nike role amid conflict of interest claims
Comments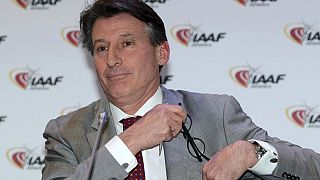 Recently-elected IAAF President Sebastien Coe has announced he is to step down from his ambassadorial role with US sportswear giant Nike following repeated questions over a conflict of interest.
An internal Nike email was leaked this week which claimed then-vice president Coe supported the 2021 World Championships bid by US city Eugene, where the sportswear company started out and still has strong ties with.
He also announced his decision to quit his role at the British Olympic Association, of which he has been Chairman since 2012.
Following a meeting of the IAAF council in Monaco, Coe told a packed out news conference: ''Firstly I have stepped down from my ambassadorial role with Nike which dates back 38 years, the current noise level around this ambassadorial role is not good for the IAAF…and frankly it is a distraction to the 18-hour days that I and our teams are working to steady the ship.
''I will also step down as chairman of the British Olympic Association at the conclusion of the Rio 2016 Olympic games,'' added the 59-year-old former head of the London 2012 Olympic organising committee.
The Monaco meeting was also to discuss the latest doping crisis that has engulfed the sport.
A world anti-doping agency (WADA) report recently found evidence of systemic and state-sponsored doping in Russia – the report led to a provisional ban from all international competition by the governing body.
Russia has also been stripped of the right to host next year's World Junior Championships in Kazan and the World Race Walking Team Championships in Cheboksary.
Its athletes will also be forbidden to compete in March's World Indoor championships that will take place in Portland, US.
Ahead of Coe's press conference the IAAF released a statement saying the Russian Athletics Federation (ARAF)had ''accepted the ban from the sport without requesting a hearing as was their constitutional right.''
ARAF confirmed they understood that the Council would only accept their reinstatement as an IAAF member following the recommendation of the IAAF inspection team, who will decide if the verification criteria have been fulfilled.
The federation also said it would cooperate fully and actively with the IAAF team.