Turkish media went into overdrive following the downing of the Russian fighter jet Cumhuriyet ran the headline "On the Brink of War" adding that the
Turkish media went into overdrive following the downing of the Russian fighter jet
Cumhuriyet ran the headline "On the Brink of War" adding that the Sukhoi is the first Russian fighter to be shot down since the Korean War.
Putin's quote ''stabbed in the back'' also made the front page.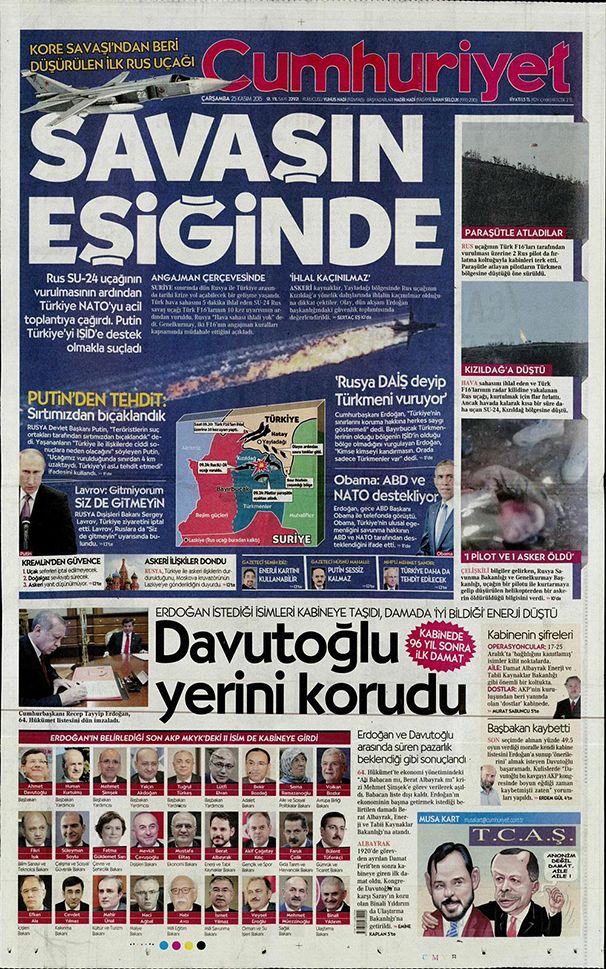 Hurriyet's headline ''The Gravest Crisis'' reflected the seriousness of the situation. Again Putin's ''stabbed in the back'' quote is in evidence. Hurriyet then made it clear that the Russian aircraft was warned it was straying into danger ten times before the Turkish F-16 opened fire.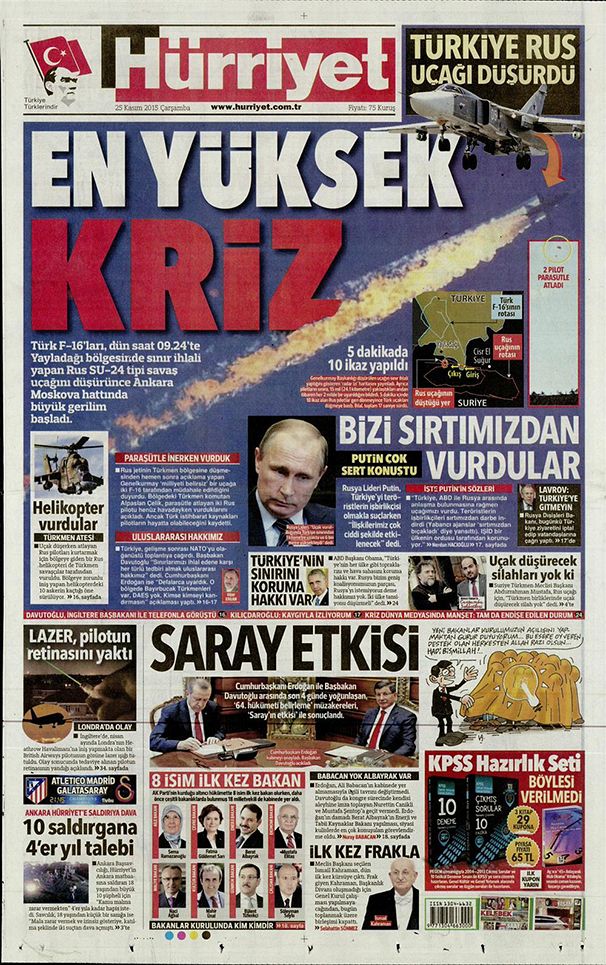 Yeni Şafak hit back hard towing a patriotic line with the headline ''We warned, we fired'' insisting Turkey "defended its borders," it added that Russian planes have been bombing Bayırbucak for days where there is no ISIL presence. The paper continued that it's not the first time Russian jets had crossed into Turkish airspace and left after being warned.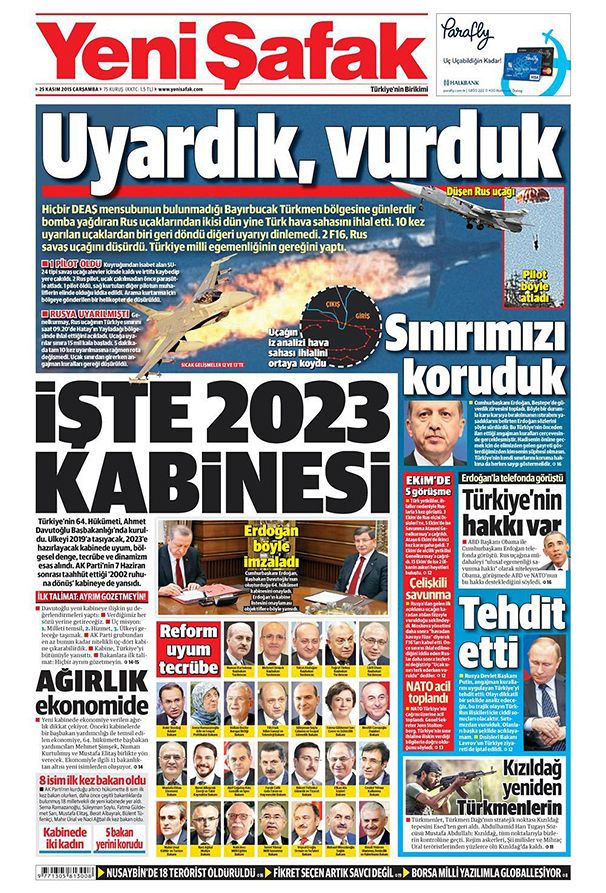 HaberTürk highlighted the complicated and delicate situation along Turkey's border with Syria with the headline "The Border of Patience" the front page continued that after weeks of unbearable tension disaster was inevitable.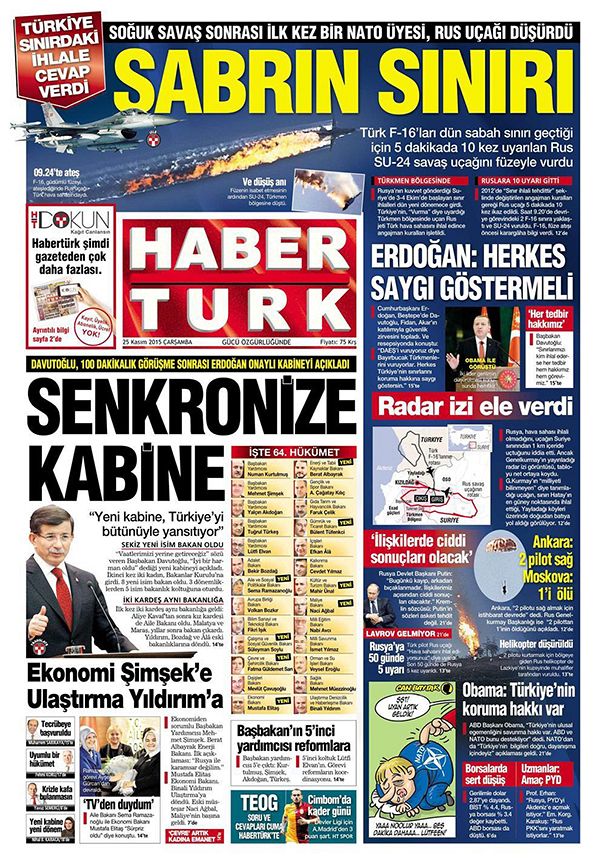 The TRT Haber website
quotes Ahmed Berri the chief of staff of the free Syrian army he said:"The plane that was shot down had been bombing civilians in Jisr al-Choghour."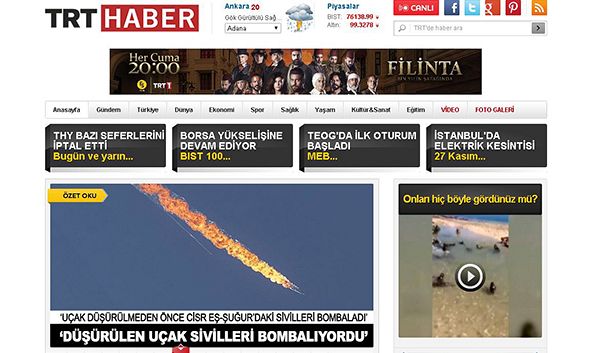 Russian media offered a spectrum of opinion on the incident
The Moscow Echo clarioned the stance of the Russian government with a headline claiming that the "Kremlin Doubts Turkish Resolve to Fight Terrorists" and with Ankara and Moscow no longer on speaking terms Turkey's commitment to battle against criminality is weakening.
http://echo.msk.ru/news/1665210-echo.html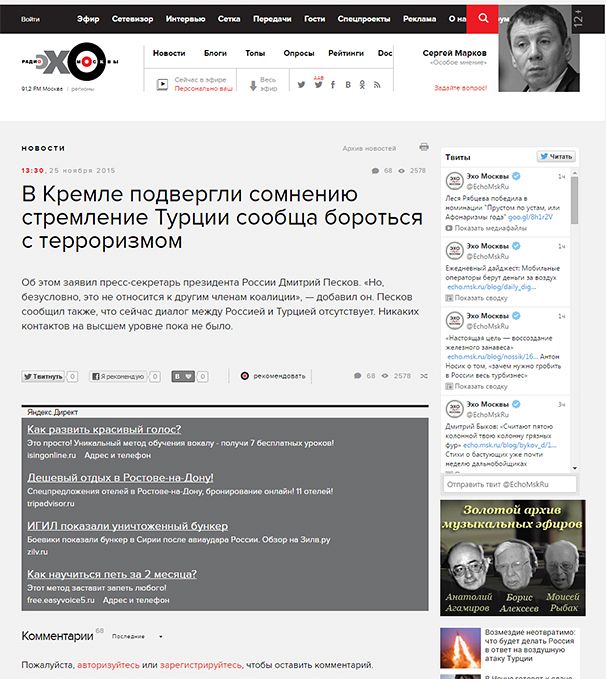 Lenta.ru used its crystal ball to see how Russia and NATO will react to the incident with the headline "Cold War or Coalition" adding that Putin will not attack Turkey, but he will respond by assisting Kurdish fighters in Syria.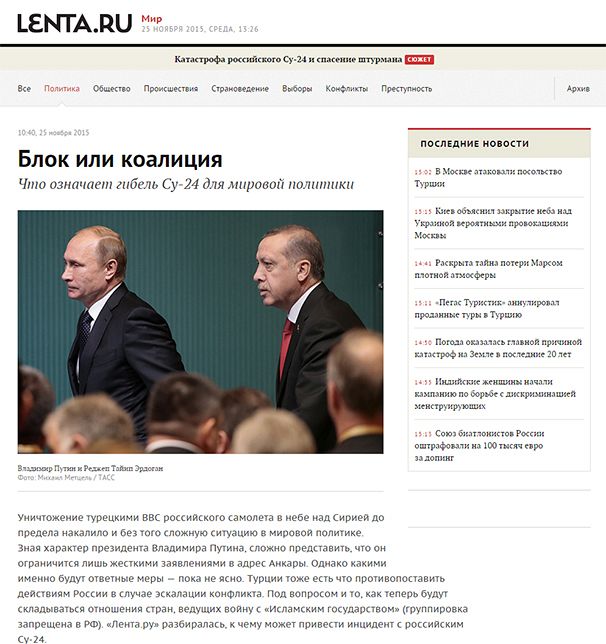 Kommersant looked at the economic aspect of the incident with the headline "Settling Accounts" and focused on what will happen to Turkish and Russian cooperation on a number of bilateral energy projects.
Kommersant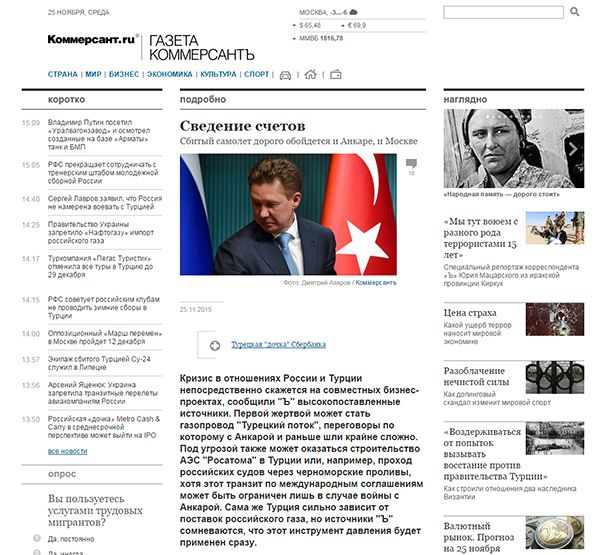 Vedomosti took the tourist angle with the headline "Tour Operators Boycott Turkey" and laments on another loss of a major tourist destination for Russians.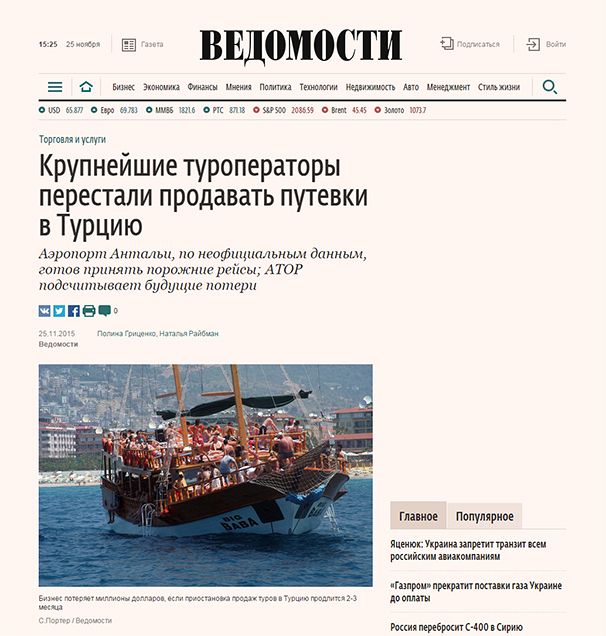 Komsomolskaya Pravda went overboard the headline called for action "The First Loss in Syria Demands a Response" foreign affairs correspondent Dmitry Steshin gave it both barrels saying Turkey has been prepared for war in Syria and Russia must respond by shooting down Turkish aircraft and closing the borders to tourists and business.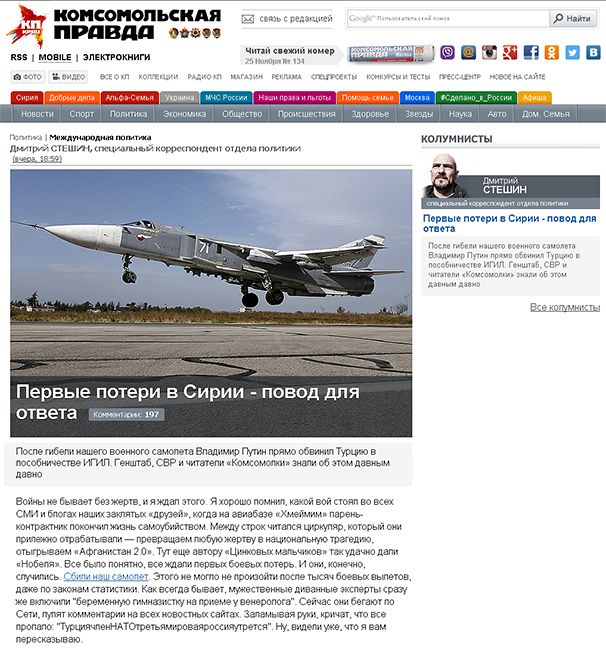 Turkey military releases audio of "warnings' to downed Russian plane