Coe under renewed scrutiny over decision to award Eugene 2021 world championships
Comments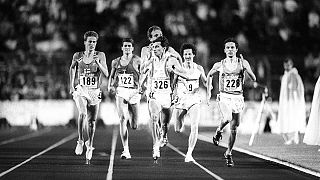 IAAF president Sebastian Coe came under renewed scrutiny over his involvement in the controversial award of the 2021 world championships to Eugene following leaked emails Tuesday.
The American city of Eugene was awarded hosting rights in April without a bidding process, much to the surprise of the Swedish city of Gothenburg, which was at the time preparing for a bid presentation in November 2016.
Eugene is situated in Oregon, the state closely associated with sportswear brand Nike. Coe is a Nike ambassador and is paid a retaining fee, but has denied the allegations and insisted all of his interests are a matter of public record.
The emails, which suggested Coe lobbied then-head of world athletics Lamine Diack to award the hosting rights to Eugene, have raised questions over a possible conflict of interest given Coe's links to both Nike and the IAAF.
"I did not lobby anyone on behalf of the Eugene 2021 bid," said Coe. "After their narrow defeat for the 2019 world championships I encouraged them to re-enter another bidding cycle as they had a strong bid.
"All my interests were, and continue to be, fully declared to the IAAF Ethics Committee and listed at the House of Lords."
Coe has maintained he always thought there would be a bidding process until Diack told the Council there were political and financial considerations for Eugene that may not be present again. The IAAF Council subsequently voted in secret 23-1, with one abstention, to award the event to Eugene.
However, the leader of Gothenburg's bid and the former head of Interpol, Bjorn Eriksson, has since called for a full investigation and Coe's role in the eventual decision.
"The idea we don't even get the chance to deliver an offer, we don't get the chance to be judged. That makes me still furious," he said.
"It smells and it has to be investigated. That's for the sport, for everybody involved."
Diack, who stepped down from his role in August and was almost immediately placed under a criminal investigation for corruption and money laundering, defended the decision taken by the IAAF Council: "Blame it on an old president on the eve of his departure who wanted to take this opportunity to give this opportunity to the United States."
Elsewhere, Coe is due to appear before the UK Parliament's culture, media and sport select committee next week over the revelations that UK Sport contributed £63,000 of public money toward his IAAF presidential campaign, and now his Nike links.