Chicago protests mark release of fatal shooting video
Comments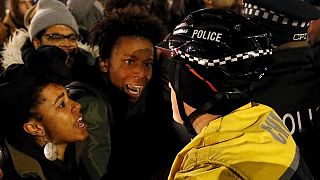 The long delayed release of a video showing last year's police shooting of a black teenager has been marked by protests in Chicago.
The police union had opposed handing over the video claiming it would taint any trial but a judge over ruled them.
The graphic footage taken from a dashcam shows 17 year-old Laquan McDonald being shot 16 times.
Officer Jason Van Dyke has been charged with first-degree murder.
Police say McDonald had refused to drop a knife and that Van Dyke had feared for his life.
The judge said with the release of the video timed with the murder indictment that she hoped the citizens of Chicago would know that an officer is being held responsible for his actions.
McDonald's death in October 2014 came at a time of intense national debate over police use of deadly force, especially against minorities. A number of US cities have seen protests over police violence in the past 18 months, some of them fuelled by video of the deaths.
The uproar was a factor in the rise of the 'Black Lives Matter' civil rights movement and has become an issue in the 2016 US presidential election campaign.