Weather mortality report primes leaders for UN climate change summit
Comments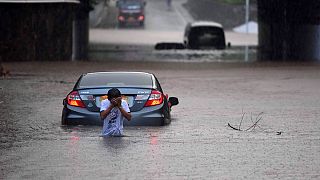 The latest figures from the UN on global deaths attributed to climate change underscore the human tragedy of weather-related disasters.
The report from the United Nations Office for Disaster Risk Reduction (UNISDR) said extreme weather events have killed 606,000 people since 1995.
These left more than four billion people injured, homeless or needing urgent help.
The report points to a sustained rise in the numbers of floods and severe storms, drought, heatwaves and extreme cold.
That underlines "why it is so important that a new climate change agreement emerge from the COP21 in Paris", the agency said, referring to talks starting next week: Nov. 30th.
Flooding accounted for almost half of all weather disasters. Three quarters of the people affected were in China or India. However, Europeans and Americans are not at all strangers to the phenomena. Hurricane Katrina destroyed New Orleans ten years ago and flooding this autumn has claimed lives in Texas, for example, and also in France, Italy and elsewhere.
The UN report also gauged the worldwide financial losses linked to extreme weather events, including the heavy damage to property and infrastructure, at €1.8 trillion.
The El Niño weather pattern, a phenomenon associated with extreme droughts, storms and floods, is expected to strengthen before the end of the year and become one of the strongest on record, according to the UN weather agency (WMO).
The World Meteorological Organization Secretary-General Michel Jarraud said: "Right now we say we think it's really going to be one of the three strongest ones. It's already a very strong one."
He said the world's worst-affected countries were planning for the impact on agriculture, fisheries, water and health, and implementing disaster management campaigns to save lives and limit economic destruction.