Heightened security to be introduced at upcoming major sporting events
Comments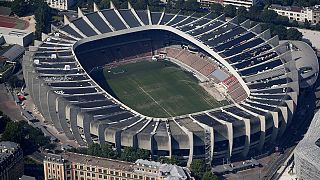 Organizers of next summer's European football championships in France have announced the fan zones will go ahead as planned but with reinforced security following the deadly attacks in Paris.
President of the Euro 2016 organizing committee Jacques Lambert insisted, however, that the organization of the zones will be left to each of the ten hosting cities.
He said: "The fan zones will be what the host cities want them to be. There will be no dogmatic vision and principles about dimensions, or how these fan zones are organised, but a kind of flexibility and liberty given to each city to adapt the fan zone to the financial context of the city, to the environmental context, to the necessity of keeping in mind the neighbouring population too."
Security measures are now high on the agenda for all upcoming major sporting events including next year's Rio Olympics.
Brazil and France have even pledged to exchange information about potential security threats ahead of the Games which will see hundreds of thousands of fans descend upon the city.
Meanwhile Russian Sports Minister Vitaly Mutko will follow FIFA's advice and increase the security around the fan zones for the 2018 World Cup which will take place in 12 stadiums in 11 host cities across the country.
Following a meeting with FIFA inspectors he said: "Of course now taking into consideration the situation in the world the security measures will be strengthened. Our FIFA colleagues today have drawn our attention to the fact that we should pay even more attention to the fan areas and the fan festivals and put them under special control. Of course it will be done."
The announcement for increased security measures at these sporting events comes in the wake of the deadly terrorist attacks in Paris and after 224 people lost their lives when a bomb destroyed a Russian airliner over Egypt in October.