How does your country rank in EU child poverty study?
Comments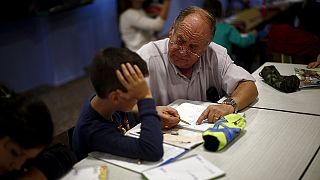 Child poverty in Romania has got worse since the country joined the EU, latest data reveals.
Just over one-in-two (51 percent) children were at risk of poverty last year, compared with 50.5 percent when Bucharest joined the bloc in 2007.
Romania has the highest percentage of under-18s at risk of poverty in the EU and has fared far worse than its neighbour Bulgaria, which has seen a drop from 61 percent to 45.2 percent over the same period.
Hungary, Greece, Latvia and Spain all had more than one third of their children at risk of poverty in 2014.
Poland has seen a 8.9 percent drop in the proportion of its children in poverty between 2007 and 2014, down to 28.2 percent .
Scandinavian countries had the lowest proportions of children in poverty in 2014, while Hungary, Ireland, Malta and Spain have all seen increases over the last seven years.
The EU average got slightly worse over this period, rising from 26.4 percent in 2007 to 27.7 percent last year.
It comes as MEPs today (Tuesday, November 24) adopted a resolution urging EU countries to boost their efforts to combat child poverty and social inequalities.
Portuguese MEP Inês Cristina Zuber said: "Austerity policies created this situation and it has been getting worse."
But Czech MEP Michaela Šojdrová rejected her view, claiming it was 'ideologically driven'.
She said: "Assisting children in need cannot be about ideology. It should justify targeted and reasonably designed measures that fully respect and comply with subsidiarity and national programmes and strategies.
"Our main focus should be on families, as child poverty stems from family poverty. Families in which parents have a low income, are unemployed or single, or large families, are more at risk of poverty and social exclusion."
Eurostat defines child poverty as the share of the population at risk of either being below the poverty threshold, being in a situation of severe material deprivation or living in a household with a very low work intensity.
---
---