Hungarian charities step in to feed needy children
Comments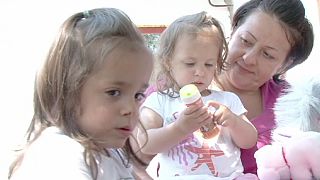 Charities are sounding the alarm about child poverty in Hungary.
More than four out of ten children aged seven and younger last year lived below the poverty line there, according to the Hungarian Academy of Sciences and Eurostat.
One third of these were Roma gypsies, two thirds ethnic Hungarians.
Social assistance is still at levels set in 2008.
The head of the Hungary branch of the network Eurochild, Mária Herczog, said:
"More and more people are getting less and less support. There is a growing mood against poor people which, obviously, helps those political decisions to be made — reducing support. Basically, it is to punish the poor. As a result, their living conditions deteriorate."
Euronews went to investigate in a traditionally agricultural region where there are practically no jobs.
Budapest correspondent Beatrix Asboth found families who could only afford the equivalent of around 50 euros per month on food for four people.
They grow their own vegetables and raise poultry — but anything besides basics is a challenge to pay for.
Mária Papp, a divorced mother of two girls, told Asboth:
"When my daughters started at the nursery, they actually spent more time at home, sick. They went for two or three days, maybe a week, and then got ill and stayed home. This spring, they spent nine weeks at home, sick.
"Little Biborka is lactose intolerant, so she needs special formula. It is a big thing for me, whatever I pay, whether it's the full 12 euros or 1.2 euros. With the help of the Children's Meal Fund, I don't pay."
The NGO Children's Meal Fund provides daily meals for some 4,000 children throughout Hungary, through donations. A few months ago it also launched a pharmacy programme for the poor in the village of Bátmonostor.
Starting next month, villages with between 1,500 and 3,000 inhabitants, a village doctor and a pharmacy can each apply for the equivalent of 320 euros per month for medicines and baby formula.
Gábor Király, president of the Children's Meal Fund, explained:
"The Pharmacy for the Poor programme is very simple. We give the money to physicians, to buy medicine for children or pregnant women who do not have enough money for what they need. This way the pharmacy can fill prescriptions and the people can be cured."
Dr. Magdolna Gyulai, who coordinates the pharmacy programme in Bátmonostor, tells us that the people most in need keep quiet about their problems. It is a challenge to convince them to apply for help.
Gyulai said: "Most of the poor are ashamed. They would rather hide that they can't afford medicine for their children, because nothing is more important for us than children. If we fail to provide something for them, then we are 'not good enough', we are 'failed parents'.
"Children who are under-nourished but have a more or less acceptable weight find it more difficult to learn, they can't concentrate, they solve math problems more slowly, they learn to read slower. Often, what is behind weaker capacity is starvation.
"Talking to parents, it's not hard to figure out. When they say, 'I didn't have time to feed them breakfast,' it's just that they didn't have anything to give."
Mother Izabella Benedek said: "I think the younger ones don't notice the problems much. We have to explain to the older ones that we're sorry but we don't have the money to buy this or that. Maybe we will later, if we get some money."
Hungary posted 3.5% growth in the first quarter of this year. Prime Minister Viktor Orban has said foreigners critical of his policies are studying this success.
Meanwhile, the Ministry of Human Capacities has earmarked some 9.5 million euros for poor children's meals this summer.