Brussels mayor advises bars and restaurants to close from 6pm
Comments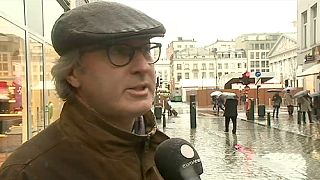 The Belgian capital is on the highest level of terror alert, with the mayor recommending that city centre bars and restaurants close from 6pm CET on Saturday (November 21).
But during the day, some people were determined to continue with life as normal.
Home to the European Union and NATO headquarters, Brussels is a tourist hotspot.
Security has been visibly stepped up across the city.
"A little bit terrified, yeah, and afraid of what can happen. But still there a lot of policemen so we hope the situation is under control," one girl told euronews.
Belgian police have charged three people with involvement in last week's deadly attacks on Paris, while France has called for tighter border controls.
"Of course, I understand that the government and the authorities choose to protect citizens, but it's (an) invisible threat. How can you protect each street of the city? It's completely impossible, that's the problem. It's a war without a face," said one man in the Belgian capital's city centre.
A huge manhunt is underway for French national and Brussels resident Salah Abdeslam. The lead suspect in the attacks, he is believed to have returned to Belgium.
But that didn't stop one local woman, who told euronews' James Franey:
"What can we do? Hide away? That won't do any good. We don't know where the next place to be targeted will be.
"I go to town every Saturday, so today I'm in town. If we're meant to die, we're going to die."