Paris: tight security as Muslims attend Friday prayers
Comments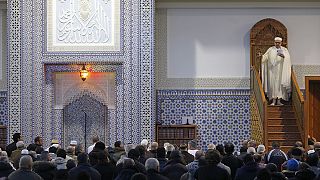 Muslims across Paris have attended Friday prayers, one week after the terror attacks which claimed the lives of 130 people.
Security was tight around the capital's Grand Mosque. It was forced to call off a planned rally against terrorism after police were unable to assure the safety of attendees.
"It makes sense to have this much security," said one man outside the mosque. "Like I said before, it's because of generalisations. People make generalisations based on what happened, based on the acts committed by a few individuals, which were not at all committed in the name of Islam."
One man drew on the stigma being attached to Muslims by some leaders.
"Certain French leaders are making generalisations now and stigmatising the Muslim community, even though we have nothing to do with it. We don't need to apologise. Sympathise, maybe, but we don't need to apologise, because we also lost people in these attacks," he said.
While one woman added:
"We are also mothers. We are also afraid of being tarred with the same brush as the extremists and we are afraid for our children. Today in the metro, people were giving me strange looks."
Main mosque groups urged imams to denounce the attacks, while some Muslim leaders used their sermons to reject violence. Suggested texts for sermons were also distributed.
Meanwhile the French government's crackdown on radical preachers led to a raid on a mosque in the western city of Brest. A dawn raid on Friday (November 20) uncovered no evidence of anything illegal.