Third body found in wreckage of Paris apartment stormed by police
Comments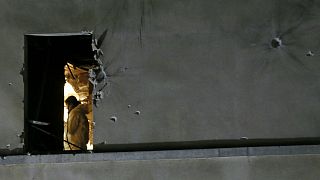 More details about two of the Paris attackers killed in the dawn raids on Wednesday have emerged. The woman who blew herself up has been identified as Hasna Aitboulahcen believed to be a cousin of Abdelhamid Abaaoud.
It has been confirmed a third body has been found in an apartment after the shoot out at St Denis, thought to be that of a woman. One police source has revealed the suspected mastermind Abaaoud was seen on CCTV footage recorded at a Metro station. He was spotted after several attacks had taken place but while the shooting at a concert hall was underway.
But the international manhunt for Salah Abdeslam has so far drawn blanks. The 26-year-old French national has been identified as a key suspect and said to be highly dangerous.
Seven days after the killings emotions in Paris remain raw. It has emerged one of the attackers who blew himself up in the Bataclan concert hall Samy Amimour had in the past missed at least three weekly check-ins with French police who were investigating him on suspicion of terrorism-related activity. "Unacceptable" is how one socialist lawmaker responded to the report.