At least 22 people killed as Mali hotel siege ends
Comments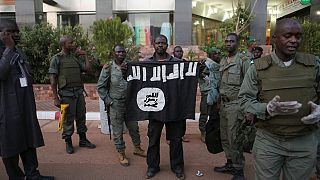 At least 22 people have been killed in a siege at a luxury hotel in the Mali capital Bamako.
Islamist gunmen stormed the Radisson and took 170 people hostage on Friday morning. Some were reportedly released after reciting verses of the Koran.
The hostage situation was ended after a prolonged assault on the building by Malian security forces aided by French commandos.
Ten attackers reportedly stormed the hotel after arriving with a car with diplomatic plates, firing shots and shouting 'Allahu Akbar', or 'God is great' in Arabic.
French, Turkish and Chinese nationals, 'tourists and business chiefs of numerous nationalities' were among those caught up in the attack.
Gunfire was earlier heard inside the building and attackers were said to be going through the hotel 'floor-by-floor and room-by-room'.
---
As it happened
---
"Very early in the morning there was gunfire. Apparently it's an attempt to take hostages. The police are there and are sealing off the area," the security source said.
The hotels owners said in a statement: "The Rezidor Hotel Group, operator of the Radisson Blu Hotel Bamako / Mali, is aware of the hostage-taking that is ongoing at the property today, 20th November 2015.
"As per our information two persons have locked in 140 guests and 30 employees.
"Our safety & security teams and our corporate team are in constant contact with the local authorities in order offer any support possible to re-instate safety and security at the hotel. At this point we do not have further information and continue to closely monitor the situation."
Five people were killed on March 7 this year after a machine gun and grenade attack on a bar in Bamako.
Islamist militants have been fighting the army in northern Mali for a number of years.
France got involved two years ago to stop their advance south on Bamako.
France was a colonial power in Mali until 1960, when the country declared independence.
Map