Beaujolais Nouveau launched on cue as wine producers show solidarity with Paris
Comments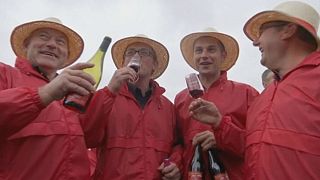 A happier image of Paris: the traditional November arrival of the latest vintage of Beaujolais Nouveau.
The third Thursday of the month just after midnight is the time it is launched – and last week's barbaric violence wasn't going to halt the festive annual tradition.
Wine growers from the central Beaujolais region came to the French capital as a gesture of support.
One said the growers thought "that we should come up to Paris to tell the Parisian people (that) Beaujolais people are behind you and we have to maintain our culture".
Those taking part in a ceremony near the Eiffel Tower wore black armbands to honour the attack victims.
The producers claim this year's wine is the best since 1947.
If so, expect last year's global sales to be exceeded this year. Of 13 million bottles exported, Japan imported the most wine by far (7.3 million bottles), followed by the US (1.8 million). Overall production was more than double (28 million bottles).
Beaujolais Nouveau represents only a third of total production from the region's vineyards – the rest is destined for ageing.
For the past ten years one hotel near Tokyo has celebrated the event in its own particular way.
After a minute's silence for the victims of the Paris attacks, it was time for a bath.
Aided by ten bottles added to the hot water, about 20 people then tasted the new wine – the children were given juice.
One said holding such events was important at such times: echoing many a sentiment thousands of kilometres away in France.