The thinning line between journalism and politics
Comments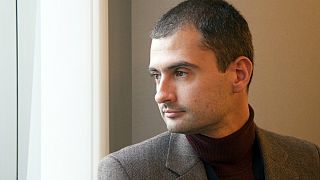 The following content is the product of the 2015 EYMD workshops. Organised by the European Youth Press and held in the European Parliament in Brussels, the eighth edition of the pan-european journalism event for young journalists. The event focused this year on media freedom. Euronews agreed to host the media outcomes of the workshops but did not interfere with the content.
Media ownership is the common ground where politics, journalism and private corporations intersect. Brussels is the kind of place where all these come together – legislation, regulations, money. But how sustainable is the media ownership business? We tried to find the answers at the European Youth Media Days 2015.
Calin Mihai Racoti, an EU official, is one of the few Romanians who have been working in Brussels for several years. He shared with us his views on the wide spectrum of media landscapes in the EU, the structural problems of the EU decision making process and the complex linkages between journalism and politics.
What are differences between the media markets of Western Europe and Eastern Europe?
There are many differences, but I think the main thing you have to take into account is the past. In Eastern Europe, media freedom is quite a new thing and it takes a while to implement. In Eastern Europe, we are looking now at 15 years of developing a media landscape. In Western Europe, of course, there were several phases, but the first steps of dealing with Human Rights were taken in the 1940s. In Eastern Europe, it was more or less the other way around. These different backgrounds changed the mindset of journalism. What I see in Eastern Europe now is that it is not very transparent where the money is coming from.
Are there plans in the European legislation to counterfere cross-media ownership?
In order to get EU-wide acceptance, you need consensus, which is very difficult to reach. But I see several chances to ensure media plurality: One would be workshops like this [EYMD, editor's note]. The second one is through the European Council and works of showing best practice examples of European countries that show where the money is coming from and why. Thirdly, there are several organisations like NGOs dealing with media transparency that push for the exchange of good practice examples.
Are there any fears that the media owners in Europe might not be able to compete with the global players due to stricter media regulations on the European level?
I think they will always find a way to bypass the regulations. As I've already mentioned – the governments will never go so deep, because these things require a lot of balance. We need to take into account the economic side as well as the influence. I wouldn't put the subject on competition, but on the political agenda in different countries. And in the absurd situation where media would be regulated up to 100%, I'm pretty sure that some clever financial bookkeepers will find a way out. Financial services are a different market and that would also have to be regulated. You can regulate a lot in the written press, TV and video content, not that much on the internet – the more you try, the less you succeed.
You've been in Brussels for several years now. How would you describe the way media are reporting on what is happening here?
I'll answer this question from the point of EU events – summits and conferences. There are only very few journalists who are really knowledgable and can report on what's really happening. Many journalists work with the press releases they receive before the event takes place, accompanying that with a couple of quotes and some punchlines. But to report in a real coherent and transparent way, that's not happening very often. And it's not so complicated to do! It just needs some effort to get into the story and not being a generalist.
Do you see a link between politicians and media makers and a lot of informal connections?
I think it's now a big issue in Eastern and Central Europe. It's a trend and if you dig deeper, you can see it started with some really good journalists back in the time, back then they switched sides. We have plenty of examples for that. And personally, it makes me very sad. We have been seeing a lot that people are crossing the line from journalism to polititcs. If they don't become politicians themselves, they become consultants. You have the skills, you know about the political game and you know the internal system in press, so as a journalist, you get a head start. In the end, journalism is all about selling your own image. Once these people start gaining power, you can see that they are not really following the goal of improving something. And this can really disrupt the system: If you're going to have show politics, you're going to have show countries and you end up with a comedy.
Journalists: Lisa Zeller, Adam Englund, and Oana Vasiliu