Police investigate France's "first female suicide bomber"
Comments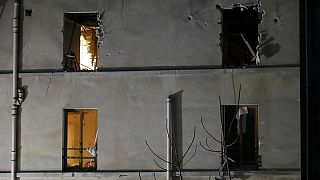 French authorities have released images of Hasna Ait Boulahcen, the woman believed to have blown herself up as police raided a flat in Saint Denis.
An audio recording of the moment thought to be prior to her detonating an explosive belt has also emerged.
Amid the gunfire, a police officer asks, "where is your boyfriend?"
"He's not my boyfriend," a female voice replies twice before a loud blast is clearly heard.
Authorities believe Hasna Ait Boulahcen may be a cousin of Abdelhamid Abaaoud.
In Creutzwald, the eastern French town where her father lives and where she visited frequently until a few years ago, people have clear memories of her.
"She used to laugh, she loved live, talked to everybody, neighbours and all, she was extrovert, a bit crazy," said one woman who did not want to be identified.
"My friends on facebook told me she used to dress European (not Muslim), she wore make up, hung out in clubs," said another resident.
Hasna Ait Boulahcen is also said to have professed admiration for Hayat Boumeddiene, the missing girlfriend and suspected accomplice of Amedy Coulibaly, the Islamist militant gunman who killed five people during terror attacks in Paris in January.