UN urges Europe not to blame refugees for Paris attacks
Comments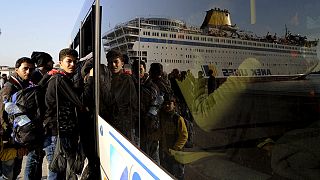 The United Nations is urging European nations not to reject or blame refugees in the wake of the the Paris attacks by ISIL.
#UNHCR Guterres in Presovo, "terrorists want us to hate refugees& divide our societies" Let's not loose our values pic.twitter.com/s7Lma9OCId

— vincent cochetel (@cochetel) November 17, 2015
Security officials on both sides of the Austria-Slovenia border have been carrying out detailed security checks on thousands of migrants heading towards Western Europe.
People fleeing war and poverty in the Middle East, Asia and Africa were body searched and had their belongings scanned on Monday.
At one refugee centre in Brussels migrants empathised with France, saying such attacks are commonplace where they come from.
"These are terrible attacks against humanity, against all civilisations, said one man. "These attacks are not against one people, nationality or religion, but against everyone."
"We escaped from this kind of situation in Afghanistan," said another. "So I'm sorry something like this happened. It scares us over here too."
The United Nations High Commission for Refugees says it's concerned by the reaction of some states to end programmes for migrants that have been put in place, backtracking from commitments they made to manage the refugee crisis.
As UNHCR spokesman said they are deeply disturbed by language that demonises refugees as a group, calling it dangerous and a contributing factor towards xenophobia and fear.