Solidarity shines through at Wembley as England and France meet in friendly
Comments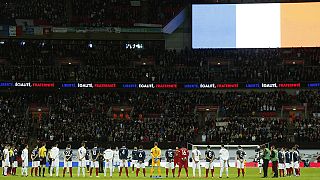 England beat France 2-0 at Wembley on Tuesday in a friendly game that stood more for strength, spirit and solidarity than sporting exploits following the recent deadly attacks in Paris.
Sport played a unifying factor as France and the world struggle to understand the events of Friday night that led to 132 people killed.
Wembley's arch was lit up in the blue, white and red colours of the French flag to show that England were standing proudly with their neighbours in such tragic times.
Screens outside the ground were also showing the French motto 'Liberte, Egalite and Fraternite'.
In a change of protocol God Save the Queen was played first leaving the French national anthem to wrap up the pre-match ceremony that also included Prince William and both team managers, Didier Deschamps and Roy Hodgson, lay floral tributes to honour the victims.
The Marseillaise was sung loud and proud moments before kickoff – a rallying cry for solidarity and hope, a symbol of France today, united and defiant.
With Wembley awash with French flags the match then went ahead.
Tottenham's Dele Alli marked his full England debut by opening up the scoring five minutes before halftime with a delightful long-range strike.
Three minutes after the restart England were 2-0 up when skipper Wayne Rooney thundered home a volley giving his France counterpart Hugo Lloris no chance.
The score stayed that way to the final whistle but on such a night with such significance the result is irrelevant.