Earthquake strikes Greek island of Lefkada killing two
Comments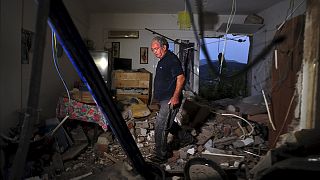 Two people have been killed after a strong earthquake struck the Greek island of Lefkada on Tuesday (Nov 17) morning.
The 6.1 tremor caused extensive damage to infrastructure and buildings on the island and others nearby.
A 69-year-old woman was one of those who died when a boulder fell on her house while another was killed when a wall fell on her. Four others had to be hospitalised with non life threatening injuries.
Strong quake strikes Lefkada, killing two https://t.co/NPkqIZjghfpic.twitter.com/WQ9wzCJRNn

— Kathimerini English (@ekathimerini) November 17, 2015
The quake struck 13km west of Lefkada in the Ionian Sea and was felt as far as Calabria in southern Italy where schools were closed as a precaution.
Fire crews from western Greece were sent to the island to assess the damage and help in cleanup efforts.
Greece is one of the world's most seismically active areas, though serious injuries and deaths are rare.
More than 100 people died in a severe quake near Athens in 1999.