Sporting world mourns victims of Paris attacks
Comments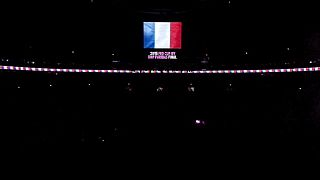 The victims of the Paris attacks have been honoured at sporting events across the globe over the weekend.
Sportsmen and women along with spectators held moments of silence at the Fed Cup final between the Czech Republic and Russia as well as at NBA basketball games in the United States, and rugby matches like the clash between Toulouse and Saracens.
As the rain pelted down in Manchester, a charity match between a Britain and Ireland XI and a squad made up of players from the rest of the world took a minute to reflect.
Stars such as Edwin van der Sar, Ronaldinho and David Beckham gathered together at Old Trafford for the game.
"It has always been a special place (Paris)," said Beckham. "It is sad to see what happened yesterday like we said unfortunately it is happening around the world as well. But like I said again our condolences to everybody there."
Stars from the world of football, formula 1, athletics and tennis expressed their shock and grief on social media.
On the other side of the Atlantic, the United States Army American football team expressed their solidarity with the French people before their game on Saturday.
In Italy, the French national anthem, the Marseillaise, echoed across the Serie B stadiums this weekend. Serie A teams are not playing this week due to the international games taking place.