A life's work: WISE Prize winner Sakena Yacoobi on transforming education in Afghanistan
Comments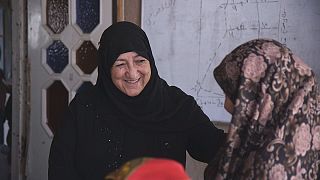 Sakena Yacoobi has touched the lives of more than 12 million people with her tireless efforts to transform education in Afghanistan. Now her work has been recognized at the World Innovation Summit for Education in Doha where she was awarded this year's WISE Prize.
If a teacher goes in the class with love, with passion, with wisdom, that teacher can reach a child much better than a teacher who goes very harsh
Empowering women, creating schools, changing lives are just some of the reasons Sakena was awarded the 500,000 dollar WISE Prize. As the founder of the Afghan Institute for Learning she has dedicated her life to improving education and healthcare, with a special focus on girls and women. She ran secret classes under the Taliban regime and has since gone on to open private schools, a hospital and even a radio station.
During the Taliban rule, Yacoobi founded the Afghan Institute of Learning, providing education and teacher training to women and children. Now, her NGO helps over 350,000 women and children each year to gain skills and become economically independent.
.MahaBarada</a> with (L-R) WISE CEO Stavros Yiannouka, Sakena Yakoobi, Leymah Gbowee & Sherena Mistri-Yiannouka <a href="https://twitter.com/hashtag/WISE15?src=hash">#WISE15</a> <a href="https://t.co/T72Kkdjacl">pic.twitter.com/T72Kkdjacl</a></p>&mdash; learning world (euronews_LW) November 4, 2015
"Every woman must be self-sufficient, must be empowered," she told Euronews. "So these centres must be empowered and self-sufficient. And once they become self-sufficient, they honour their own organization, and we keep opening new centers, then train them, teach them, assist them, they are empowered and we go to the next one."
Ruquia Panahi, a former AIL student explained how school transformed her life:
"The first time when I came here I didn't know anything, I was illiterate so I came here and started with literacy classes. When I learned reading and writing, I applied for the tailoring class. Now I have a shop in which I teach tailoring to two students. I learned everything here and now I am a good tailor. Now I don't ask my husband for money anymore."
At least 480 people, mostly women, work for the Afghan Institute of Learning which has opened up to 340 learning centres to date, nearly all of them self-sufficient.
"Education gives you power, status, and I could see that these women are smart, intelligent, but they didn't have opportunities," said Dr Yakoobi.
"If it wasn't for this centre, they would be sitting at home, cooking and cleaning and just sitting in the house. Now that I could see them, they come, they exchange ideas, they laugh, they joke, they have fun, and also they are learning skills, they are learning how to read and write and so of course it gives me a lot of pleasure and joy, yes."
#Education experts look for solutions at #WISE15 summit https://t.co/Mxs6L5H8KN (Live updates by _CBCullen</a>) <a href="https://t.co/5Qz2Nq1yG1">pic.twitter.com/5Qz2Nq1yG1</a></p>&mdash; euronews (euronews) November 4, 2015
In addition to the regular curriculum, pupils also learn valuable leadership skills. The schools are funded through donations and fees, if parents can't afford them, their children get scholarships.
Dr Yakoobi said education needs to evolve in Afghanistan: "I as a child in this country I was learning through all my life from first grade to twelfth grade just by rote memorization. And I did not want that to happen again to the future generation of Afghanistan.
"I want them to do critical thinking. I want them to ask questions. I want them to feel free in the classroom. I didn't want the teacher to beat the children. If a teacher goes in the class with love, with passion, with wisdom, that teacher can reach a child much better than a teacher who goes very harsh."
Arifa Olomi, a teacher trainer at the Afghan Institute of Learning outlined Yacoobi's philosophy: "The methodology devised by Professor Yacoobi in Afghanistan is for active teaching, which will replace old teaching methods. There is a famous quote that says that if I only hear I forget, if I see I will learn and if I do I will understand. When students use these methods and helpful learning materials, their five senses are active. They will learn better when they're active both mentally and physically."
Dr Yacoobi said she feels a duty to help rebuild her country: "I remember Afghanistan as a child, it was a beautiful country, but today we completely demolished all our natural beauty. Because of that I feel that this is my duty, this is my responsibility. The motivation comes from my love to my land and I really love Afghanistan and the people of Afghanistan."
Dr Yacoobi's NGO has also trained nurses, midwives and other health workers to provide health education in public hospitals.
"Health education and education is like a chain, it;s connected to each other,"' she said. "My approach, my vision was to set up clinics so that the people when they come to go to see the doctor at the same time they learn something about their health. They learn how to eat well, they learn how to have a good hygiene, they learn how to have good sanitation, they learn how to take care abut very simple diseases and also how to take care of their child."
Her next goal is to open a University in Afghanistan: "Many little girls didn't have the advantage that I had. I had a fantastic father. I had a father that had a special relationship with me, I think that today, whatever I accomplished, it's dedicated to my father. He wanted every of his children to go to school, it didn't make difference if it was a girl or a boy."