#Flushgate: Montreal's controversial sewage dump begins
Comments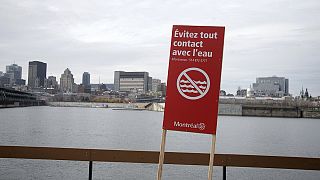 #Flushgate, as it's being dubbed, has begun. Montreal has set into motion a controversial operation to dump eight billion litres – or 2.1 billion gallons – of raw sewage into the St Lawrence River.
A group of around 40 people is protesting against the action, which is expected to take up to seven days (from November 11) to complete.
Otiahori Lea Johnson, a protester and Montreal resident, said:
"This is our town. This is our Earth. Where are we going to be without it?"
Canada's second-largest city is undertaking repair work on a major sewer. As a result, it will be temporarily shut down and wastewater diverted to discharge points along the river.
Signs posted around the river read "avoid contact with the water," although authorities insist this is the option with the least environmental impact.
Repairing the ageing water treatment system now will hopefully prevent a potentially disastrous burst or leak later, they argue.
"Know that this decision, as unpopular as it is, was taken in a responsible manner. As I repeated several times, it is with no light heart that we proceed with this decision. If we could have avoided this choice, we would have done," said Montreal Mayor, Denis Coderre.
A drop in the ocean?
Authorities say they are releasing 1mg of sewage per litre of water.
Coderre added that the sewage dump has met the conditions imposed by Environment Canada and all is going to schedule so far.
According to city officials, the dump will have little effect on the river's fish and will not affect drinking water quality for local residents.
Drone footage
Drone over St. Lawrence River

"We're overseeing it, we are recording data and I want to reassure people that it's going well."http://www.cbc.ca/1.3313623

Posted by CBC Montreal on Wednesday, 11 November 2015
Boroughs and cities affected