Civilian orders upstaged by demand for military planes at Dubai Air Show
Comments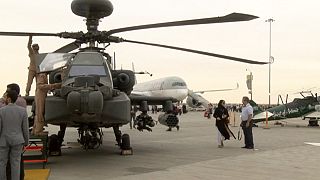 A lack of civilian aircraft orders from Gulf region airlines characterised the 2015 Dubai Air Show, in marked contrast, to the 2013 event, when Emirates, Etihad and Qatar Airways notched huge orders for Airbus A380s and Boeing 777Xs.
Alluding to slow commercial aircraft sales at the show Airbus said that airlines in Middle East already had plenty on order. "They ordered 160 aircraft in 2013, they are not going to do that again two years later," the CEO said.
Emirates and Turkey reiterated their interest in a re-engineered A380 to make it more fuel efficient and possibly longer, or "stretched" to carry more passengers.
Vietnamese carrier VietJet Air announced it was buying 30 additional Airbus A321s, including nine A321ceos and 21 A321neos.
The Gulf region's big deals
But the commercial showing resulted in a greater emphasis on the defence sector, which in recent years has been overshadowed by big airliner orders.
Deals were struck totalling about 35.5 billion euros according to Major General Abdullah Al Sayed Al Hashemi, Chief of Military Committee and the UAE Armed Forces spokesman at the show.
The UAE and Saudi Arabia, fighting in both Yemen against Houthi rebels and as part of the US-led coalition against so-called Islamic State, also signed deals, but no details were available.
Saudia Aerospace Engeneriing Industries (SAEII) looking for a "lot more of military work", as his managing director Nader Khalawi said, agreed in a long–term strategic partnership with Air France Industries-KLM engineering and maintenance.
It will support Saudi Arabia national carrier and develop maintenance, repair and operations (MRO) capabilities for future Airbus and Boeing.
UAE announced a 1.18 billion euros-deal for upgraded Saab surveillance systems aboard new Bombardier aircraft that the country has acquired. Saab said the deal is for a new version of its Erieye radar system for the Bombardier Global 6000 aircraft. Deals for planes and maintenance amounted to over 25.2 billion euros, according to a local newspaper.
This year the air show hosted 1,100 exhibitors from more than 60 countries and featured 16 industries.
Backstage, exhibitors aviation told euronews that they were highly optimistic about prospects for Iranian aviation in the near future.
It's thought Iran could come up with a raft of orders for aircraft – both civil and military – plus related service and equipment in the next months.
In fact, the relaxation of trade sanctions opens doors for business aircraft manufacturers. The country has not seen any real development in the sector for at least 12 years. Emad Shargi, CEO of aircraft brokerage firm Executive Aircraft sales said: "Iran is where Turkey was in the early 1990s, as far as business aviation goes."
Our correspondent at the event Rita Del Prete said:
'' One theme to emerge strongly from this air show is airspace congestion, identified as the biggest threat to the growth of aviation in the Middle East.''