US athlete Alysia Montano speaks out over doping allegations in athletics
Comments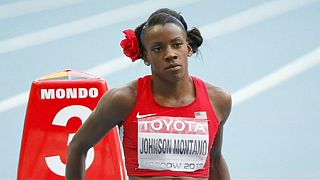 For US Olympian Alysia Montano training does not stop as allegations of doping engulf her sport. The two Russian athletes which the World Anti-Doping Agency recommended should be banned had beaten her into fifth place at the London 2012 Games. WADA has recommended a lifetime ban for the athletes. It could have been a bronze medal for Montano.
"You cannot give me back my podium celebration. You cannot give me back my family celebration time. You cannot give me the time where I am watching my flag be raised, and standing there proud that I was able to represent my country in such a manner. Can't give that back to me. At the end of the day, it's robbery," she said.
From Russia the finger of blame is being pointed at other nations. The country's sports minister Vitaly Mutko said Britain's anti-doping system is "even worse" than Russia's. Other's have named African nations.
"The call for an overall ban on the athletes was a surprise and it was a surprise that the demand was so one-sided, only affecting Russia. Scandals are continuing all over the world – in Kenya, in Africa, in Europe. It is a shared problem and we should solve it together," Tatyana Lebedeva, Vice President of Russian Athletic Federation said.
Bans and boycotts are in the air. A financial challenge to the Olympics and questions for the global brands which have sponsored the Games.
"The Olympics have survived before with boycotts but we are in the modern world and people want to see all the top athletes and all the top countries competing," opined sponsorship consultant Nigel Currie.
Rio 2016 is approaching. Will the sponsors run for cover and who will be there?
The International Association of Athletics Federations – the IAAF – will meet on Friday. That could well determine whether to suspend Russia – the first step toward potentially barring the country's track and field team from Rio.