Civilians dead in mortar attack on Assad's Latakia stronghold
Comments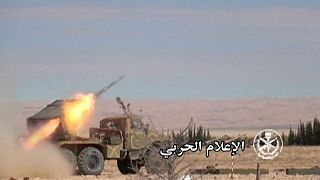 A mortar attack has killed at least 22 civilians and injured some 65 in ''Latakia'':https://en.wikipedia.org/wiki/Latakia in Syria.
Death and destruction is a daily occurrence in Syria, but an attack on the Alawite stronghold of President Bashar al-Assad is unusual.

#Syria rebels rocket attack in #Latakia kills at least 23 https://t.co/ng4SwcHPPf Video https://t.co/nkPBAwSCDUpic.twitter.com/iI6Dhk0uKF

— маяковский (@moscow_ghost) November 10, 2015
The mortar hit an area close to Tishreen University.
A Russian military base is located in the small town of Hmeymin some 4km from Latakia.

Russia Mil Mi-24 crocodiles attack helicopters heavily armed take off every day to patrol its base in Latakia, Syria pic.twitter.com/EcCX0fifgU

— aloysius (@aloysius34) October 28, 2015
No one group has claimed responsibility for the attack.