Unrest erupts at Australia migrant detention centre
Comments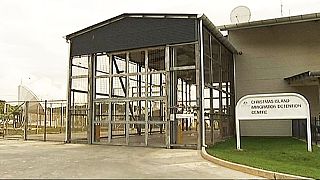 Australia is dealing with a major disturbance at its controversial immigration detention centre on remote Christmas Island.
Unrest flared after an Iranian Kurdish asylum seeker who had escaped was found dead at the bottom of cliffs.
With reports of fences torn down and fires lit, the girlfriend of another detainee fears for his safety.
"I just shook… and cried…and I am petrified for him and all the others," said Nakita Regan, speaking from Sydney.
"They shouldn't even be on that island."
Amid the chaotic scenes, guards reportedly fled the facility which has long triggered concerns over human rights.
"If people have committed acts of wilful damage or assault or other criminal acts within detention centres, then they will face the full force of the law," said Australian Immigration Minister Peter Dutton.
"But for us at the moment the priority is to make sure we can restore order within the centre."
Opposition politicians have demanded that the government disclose the extent of destruction caused by the unrest.
On Christmas island, Australia segregates detainees seeking political asylum, many of whom have fled from war-torn regions in the Middle East and Asia, from foreigners facing deportation for a variety of crimes.
The United Nations and human rights groups have criticised Australia over the harsh conditions at its offshore immigration detention centres and its tough asylum-seeker policies.
Australia's immigration detention facilities. Riot hits migrants' centre on Christmas Island https://t.co/3gStkneFhJpic.twitter.com/GFAhgDyoKk

— Agence France-Presse (@AFP) 9 Novembre 2015
Defending them as necessary to stop deaths at sea, former Prime Minister Tony Abbott often described them as one of his government's biggest achievements.