Suu Kyi continues life-long fight for Myanmar democracy
Comments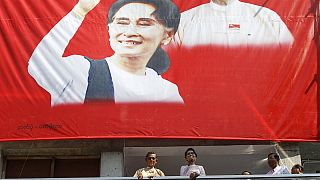 Aung San Suu Kyi was awarded the Nobel Peace Prize as an icon of peaceful democratic resistance. She could only receive it in person in 2012, after many years' of strictly limited freedom.
One prisoner of conscience is one too many.
She said: "As you look at me and listen to me, please remember the often-repeated truth that one prisoner of conscience is one too many."
When the leader of Myanmar's opposition was made a laureate in 1991, her sons and husband, all British citizens, accepted at the ceremony in her stead. She had feared not being allowed back into Myanmar if she travelled outside.
In 1988, to care for her mother Suu Kyi returned to Myanmar after studying and working abroad, where she had married Tibet scholar Michael Aris. She created the National League for Democracy (NLD). The military junta violently put down mass demonstrations.
It put her under house arrest in 1989. The NLD won the 1990 parliamentary elections with 59 percent of the vote, which the army rulers ignored. As they clamped down, she was kept at home, literally, for most of the next 21 years.
Suu Kyi and the top general since 1992 Than Shwe at last met in 1994. She was let out of her house and in 1996 was allowed to visit her father's grave — Aung San, the independence hero assassinated in a power struggle when she was two. But she dared not leave the country to be with her husband in England, diagnosed with terminal cancer, putting the democratic cause first. Aris was denied a visa for Myanmar and died in 1999.
Suu Kyi was back under house arrest the following year, let out in 2002 with UN pressure, rearrested by the government in 2003. She always spoke out against her confinement. In 2010, the NLD and other opposition parties boycotted the elections and the Union Solidarity and Development Party (USDP), whose president Thein Sein is a former general, was the winner.
Aung San Suu Kyi was liberated for the last time a few days later. All time combined, she had been kept within the gates for 15 years.
To general surprise, the junta dissolved itself in 2011, Thein Sein leading a semi-civilian regime.
In a by-election in 2012, the NLD won 43 seats in parliament, Suu Kyi one of them, running against the USDP candidate, finally becoming a lawmaker.