Burundi announces security crackdown after months of violence
Comments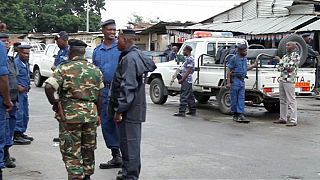 Burundi's security minister has announced the start of a forced disarmament programme following months of violence and civil unrest.
Troops are going house to house to remove weapons held by civilians. However regional powers fear the security crackdown could spark fresh bloodletting in the central African nation.
"There is a new technique that will support the process of the forced disarmament of the civilians. This new technique enables us to get hold of the weapons held illegally said Security Minister General Alain Guillaume Bunyoni.
"Those who refuse to give up their guns will be dealt with as enemies of the nation."
The operation follows an execution style attack on a bar on the capital Bujumbura on Saturday night in which nine people died.
Burundi has been hit by waves of violence since President Pierre Nkurunziza launched his successful bid to win a controversial third term.
People in largely opposition areas are continuing to flee the capital for fear of targeted killings by government forces.
The deteriorating situation is due to be discussed at the UN this week.
Regional and world powers have grown increasingly concerned that the security situation in Burundi may develop into a repeat of the ethnic violence that ended in genocide in neighbouring Rwanda in 1994.
So far the violence, which has claimed the lives of at least 200 people, has not been along ethnic lines but instead a reaction to the president's third term. The constitution only allows for two terms in office but Nkurunziza claimed his first term didn't count as he was only elected by MPs. Burundi's constitutional court backed him.
But the rising unrest has sparked fears Burundi could slide back into conflict after its 1993-2006 civil war, when some 300,000 people died as rebels from the majority Hutu people clashed with an army dominated by the minority Tutsis.
Burundi's 10.4m population is made up of 85% Hutu and 14% Tutsi.